Germany goes walking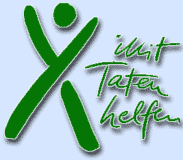 The day of the German unit 1998 was in almost all parts of our country a totally rained out Saturday, at which normally no dog is sent prior to the doors.
Inasmuch as the hikers have no clothes problems, the folksport events take place at each weather and the proceeds of buying start tickets is on this day the known for good purpose, the undeviating of course were on the legs and marched for the Christiane Herzog foundation.
The total proceeds by on the subject of DM 25.000, - was made available the foundation. Up to now DM 53.000, were handed all things considered.
All organizers and all participants of the this year's event "Germany goes hiking" are the many thanks of the whole German folsksport family.

In each year October 3rd will be kept free for walking tours in favor of the Christiane Herzog foundation. Regularly, more than 30 clubs participate in the good thing under the motto "Germany goes hiking". A part of the proceeds is getting for children who got to the alleviation of the need by Mukoviszidose related.

Mukoviszidose behind this jawbreaker a metabolic disease that is often mistaken due to its symptoms for whooping cough, asthma or bronchitis spends. The reason for the disease - a genetic defect - is even not treatable however until now.

In favor of this foundation a wandering day was accomplished 1998 und 1999 at the ABC- und Selbstschutzschule (ABC - and self-protection school) in Sonthofen (Links in German Language).